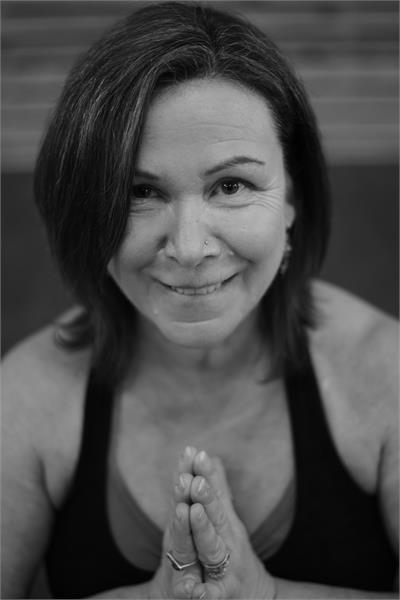 Director/Owner
Teacher & Student
Ellen came to hot yoga 11 years ago after sustaining neck and shoulder injuries in a Motor vehicle accident. Her physiotherapist suggested it as a great way to heal her body...little did she realize it would offer her so much more! Meeting herself on the mat and in the mirror started to teach her acceptance and compassion for herself.

Outside of the hot room Ellen is a Registered Clinical Counsellor with over 30 years experience working with individuals who have had catastrophic injuries and multiple, complex trauma. She has long dreamed of incorporating the gifts yoga has given her into her therapy practise. She took the Moksha Level 1 training in Kelowna in July 2015 and is grateful to have found a Moksha home at MYW.

Ellen's background in mental wellness work gives her a unique perspective on how yoga can heal beyond the purely physical. With a view to integrating her 2 passions of supporting folks who have experienced trauma and yoga Ellen completed her 300 - hour Trauma Center Trauma Sensitive Yoga training in March 2018. She is excited to offer TCTSY classes and continues to offer trauma informed classes and individual sessions.

Ellen approaches all of her teaching with a trauma informed lens and enjoys sharing mindfulness, compassion, body positivity, breath awareness and humour with her students. Ellen completed her Moksha flow training in North Vancouver in May 2018.
My yoga journey started 8 years ago as a young student who casually explored different studio's intro month passes. After hopping around for a while, I noticed how a regular practice supported my mental, physical and spiritual health and decided to make this a commitment in my life. The anxiety I regularly battled with felt better managed. I felt more spacious in my body. And I felt a deepened connection to my true self.

In 2016, I decided I needed to share the wisdom and personal tools one can access through this practice. I took my 500hr training through Modo International and then continued with a Level 1 & 2 yin training with Joe Barnett in 2018. I always strive to make my teaching style as accessible as possible and from a trauma-informed perspective. My goal is to help you feel safe and supported in your practice so that you can experience a deepened connection to your inner world. You'll find me teaching my favorite styles of yoga including yin, hatha, modo inspired and restorative.
My name is Alana and I have been a yoga instructor for five years. I began my journey practicing yoga as an outlet for managing my anxiety. I quickly grew to appreciate the peace and joy I found from yoga and decided to enrol in an RYT-200 teacher training to further my practice.

I love how yoga creates a space where you can cultivate a true relationship between your body, mind and breath. My goal as an instructor is to give people the tools they need to find happiness in connecting with their bodies.

I like to keep my classes lighthearted and balanced between strength and flexibility. I combine both strength and mobility work in a grounded, Vinyasa Flow style.
I was introduced to Yoga in 2006. I remember doing my first downward facing dog in a shared office space in Gastown, where yoga was offered during lunch hour. The fire and genuine desire for yoga was lit and led me to explore this path of body, mind and spirit.

Teaching a safe and well balanced session makes yoga accessible to students of all levels. My classes are focused on body, mind and spirit; encompassing breathing techniques, strengthening and stretching, relaxation and meditation.

Practice with a happy heart and find the balance between challenging yourself and allowing yourself to rest.
I completed my 300-hour yoga teacher training with Modo International in the summer of 2019. I am currently working toward 500 hours through Modo's distance learning program. In my free time I enjoy hiking, reading, holistic nutrition, and pursuing personal development. Outside of teaching I learn from those living with dementia and mental disabilities as I work with their needs to enhance independence and quality of life using my diploma in Therapeutic Recreation.

I discovered my love for yoga 2.5 years ago when navigating health issues, anxiety, and a distorted self perception. One day at a time I experienced a drastic shift in physical strength, mindset, and approach. I have been able to come to engage with myself, my experiences, and the world through a more expansive and compassionate lens. I feel compelled to teach. I value this tool of breath and movement that has power to bridge and empower connection to self. I hope to create a space where you will feel submerged in your own aliveness and allow the way that looks on the outside to become an irrelevant biproduct of presence. For me, teaching is another form of practice. It is my way to embrace those things that scare me the most and offer myself without limitation. I am finding that I often incorporate self-awareness, body-positivity, and insight into my classes that aim to move your practice inward. I encourage that you take what is offered and use it as a safe space to create and support your practice in your own way. "The fastest way to where you want to go is through where you are."


I was first drawn to yoga at my mixed martial arts studio when I was 16, I was just drawn to it and felt like I already knew everything about yoga, as if I have done all of it before, Yoga just felt right. I found that it helped with my performance in sports and life in general. Yoga has been with me along the way ever since and becoming a teacher just felt right for me. I did my teacher training in Greece on the island of Crete and had a transformative experience. I've been teaching on the Island of Newfoundland where I have been finishing my degree for the last 6 years. Students can expect an authentic yoga experience from my classes but also a down to earth approach that is welcoming to people from all walks of life. I do believe in working hard during practice, whether that means pushing yourself to go deeper into poses or working to accept where you are and allowing yourself to take brakes. I want students to leave my classes feeling challenged, centered, energized, and more present.
What drew you to teaching?What can I as a student expect in your classes?Name one passion outside of yoga
I knew it were time to start down the dirt path of teaching yoga when I realized that my absolute fave place to be - was the yoga space.

If you find your way into my class, you'll likely feel equally motivated and rejuvenated. You will be challenged yet supported. My hope is that by class end, you'll feel bittersweet- happy you've done it, a little sad that class is already over.

Other than yoga?
I'm devoted to my husband, my cats, and to the preservation of all other species - large and small.

Laura has been practicing yoga since 1998, and teaching in Saanich and the WestShore communities since 2006. Studying and practicing with Yin pioneers like Bernie Clark, Sarah Powers, and Paul Grilley, Laura has been specializing in Yin Yoga for over a decade. Her approach is one that is blended and well rounded, bringing knowledge and a sense of humour to lead classes that are physically and mentally beneficial to participants of all ages and abilities.

My yoga journey began well over a decade ago, as a tool to recover from both physical injuries, as well as anxiety. In 2014 I completed my first 200hr teacher training in Thailand. Originally from Vancouver, I moved to Sidney by the Sea in 2017. I love it here! I'm also a sailing instructor, and a girl guide leader. It is my honour to serve our community.

In 2020 I completed a 300 hr teacher training here in Victoria, which literally changed my life. Rather than just practicing yoga as a tool, I now feel so in line with my true nature, that I'm beginning to embody yoga. Live yoga. It is my honour to share this passion with you.
I'm a nature loving, adventure seeking, yoga enthusiast who is excited to share my love of yoga with the Sidney Hot Yoga community this year.

I came to yoga as a way to move my physical body and avoid injury in all my other activities and grew to love it for what it did to my mind and my life off of my mat. I've been a student of yoga since 2004 and completed my 200 Hour Hatha Yoga Teacher Training in 2012.

I am also fortunate to teach yoga as part of my day job as a teacher at Parkland Secondary School where I created and now teach a Yoga PE course.

Students can expect my classes to have a lot of cueing (I'm passionate about alignment and anatomy), a focus on using your own breath and body as a guide, and some fun variations of your favourite postures and sequences.


My first exposure to yoga was as a child when my mom and I decided to try doing the poses from a book that she had. We didn't fully understand the practice of yoga at that time but had so much fun trying the different poses.

As an adult I have found that the practice of yoga has always made me feel grounded and tuned in to my own body and mind. I've always loved how I feel after a yoga class which led to exploring my practice further and completing my RYT 200 teacher training. The deep connection that can be found on the mat has brought a positive energy to my life that I want to share with others. I like to treat my classes like a choose your own adventure by cueing poses with a firm foundation and building on in layers from there. I feel that this allows your intuition to guide where to take your practice while cultivating inclusivity and safety.

I'm passionate about creating minimalist design that feels as intuitive as we are. Web and graphic design have long been something that's made me happy, and I'm looking forward to doing that work here in such an excellent community. I have been studying and practicing yoga for over a decade, and love teaching and practicing.